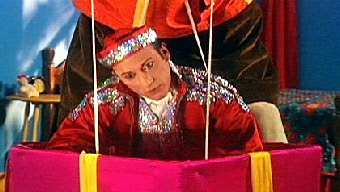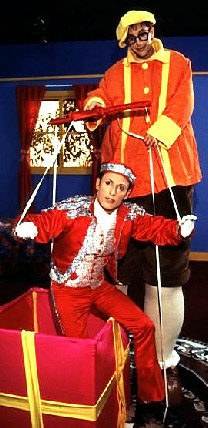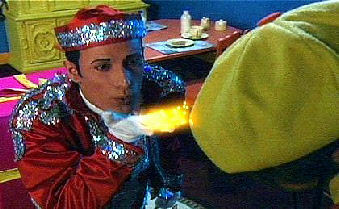 EXPERIENCE A SHOW
OF TRUE FRIENDSHIP:
"THE MARIONETTE":
Crossing over cultures, age and languages, "The Marionette" is a Musical Show telling a beautiful story of true friendship. Based on the award winning movie "The Marionette," the poetry here is not in words but in action.
Performed on stage or in a crowd, the Marionette is the inspiring story of a 9-foot tall kid and his developing friendship with his new birthday gift: the Living Marionette!
COME AND DANCE WITH THIS HIGH ENERGY MUSICAL SHOW:
The Marionette is a hight-energy musical show. Full of multi-level messages, The Marionette let the viewer reach this place inside where the Heart speaks of itself!
BE MESMERIZED...
The Marionette is a complete Musical Live Show for all audience. It can be formatted to your needs according to your event:
- In its short version for Special Events, The Marionette offers a 20 minutes stage performance, continued by a 20 minutes atmosphere strolling act.
- In its theatrical version of 1 hour 15 minutes, the Live Show is performed along a live projection of the movie The Marionette. The magic of the show is to bring the characters to life!
Bonus: signing of autographs at the end of the show.
REMEMBER THE EVENT:
GET THE MARIONETTE MOVIE ON DVD
On stage and in the movie, Nicolas J. is the Marionette, bringing his talent to an art form. He is not only a world renowned performer who studied with the famous French mime Marcel Marceau, but a talented movie director as well.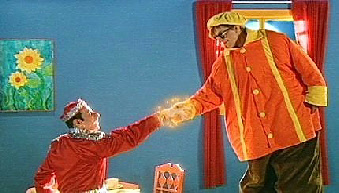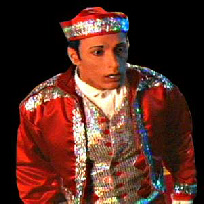 THE MARIONETTE, A HIGHLY PRAISED MOVIE:
The Marionette received:
- the Telly Award for "Best in Children's Audience"
- the Crystal Reel Award for "Best Picture"
- the Crystal Reel Award for "Best Sound Track"
It was also featured at the New York Independant Feature Film Festival and at the Worldfest Houston.
THE PRESS TALKS ABOUT THE MOVIE:
The Marionette was quoted by the Los Angeles Times as "The nation's newest addition in the children's learning family of icon figures."